PeaceMaker is inspired by real events in the Israeli-Palestinian conflict. PeaceMaker challenges you to succeed as a leader where others have failed. Experience the joy of bringing peace to the Middle East or the agony of plunging the region into disaster. PeaceMaker will test your skills, assumptions and prior knowledge. Play it and you will never read the news the same way again. PeaceMaker has been sold in over 60 countries, been featured by top media outlets around the world, and has won several international awards. The PeaceMaker platform can be adapted to other conflicts and social issues.
Click here to visit the official PeaceMaker site and download the game.
The patent pending PeaceMaker platform has a robust set of tools and an underlying logic system that allowed us to tune and input content easily while constructing the game. This same infrastructure can be reused to address other conflicts or issues around the world. Please contact us if you are interested in partnering on a future title.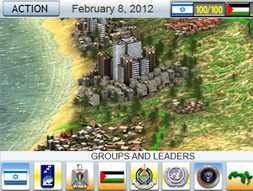 Since the very beginning of this project there has been a long wish list of future development for PeaceMaker. The two projects we are currently undertaking are a mobile version of PeaceMaker and an easy to use game builder that will make it even easier for others to build and publish games that follow the same structure as PeaceMaker. The mobile project design is complete and we are just chipping away at the coding in our spare time to see this one through, so keep your eyes out. The easy to use editor tool and publishing platform still have a ways to go (we are hoping to possibly fund making this a priority from the sale of the mobile version of PeaceMaker).